IP NEWS
2020/11 > Irreconcilable Differences Between Art According to Banksy and the Dictates of IP Law
Banksy, the world famous British street artist with ten million followers, has recently experienced a bitter disappointment: the EUIPO (the European Union Intellectual Property Office) at the request of the company Full Colour Black limited cancelled the trademark "The Flower Thrower" on 14 septembre 2020  (1).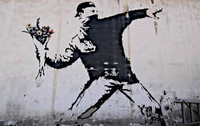 "Rage, the Flower Thrower" is one of the artist's most emblematic works, which appeared on a car wash on the main road of Beit Sahour, a Palestinian city close to Bethlehem in 2005. This work has been widely exploited by third parties  through decorative objects or posters.
A reproduction of this work had been registered as a trade mark by the British company Pest Control Office Limited, which was set up to represent Banksy's interests while preserving his anonymity.  With this cancellation decision, this is a whole legal strategy which is collapsing and many other trade marks representing his works could also be threatened …
Legal protection under a skilfully orchestrated anonymity
" Banksy has chosen to remain anonymous and for the most part to paint graffiti on other people's property without their permission rather than to paint it on canvases or his own property," or " I still encourage anyone to copy, borrow, steal and amend my art for amusement, academic research or activism. I just don't want them to get sole custody of my name "… these few lines from the EUIPO decision clearly set out the legal situation in which the artist finds himself: the one of an anonymous artist, wishing to remain anonymous at all costs, disseminating his work and authorising its reproduction, but wishing nevertheless to control the commercial use that might be made of it. Inextricable situation…
A copyright protection impossible to implement
Any street art work, as long as it is original, is considered as an intellectual work and therefore is eligible for copyright protection.
Banksy could have chosen copyright protection by asserting his authorship on the basis of Article L113-1 of the Intellectual Property Code which states : " Authorship shall belong, unless proved otherwise, to the person or persons under whose name the work has been disclosed. ». But opting for copyright protection would have meant that Banksy would have had to give up his anonymity and therefore be identified as the author of his works in order to be able to take action for infringement.
Moreover, beyond any consideration of his carefully maintained anonymity, Banksy openly flaunts a certain scorn for copyright, which the opponent did not fail to point out by citing the artist's phrase widely quoted  in the media "copyright is for losers" (2). The EUIPO comes to the same conclusion too: "He has also chosen to be very vocal regarding his disdain for intellectual property rights, although clearly his aversion for intellectual property rights does not annul any validly acquired rights to copyright or trade marks".
A registered trade mark…
Banksy has therefore chosen to place himself under the protection of trademark law, with the clearly stated intention of being able to enforce an intellectual property title against any company or any person wishing to commercialize his works without his authorisation, any other reproductions of his works being free.
In 2014, a faithful reproduction of his work was thus registered as a figurative trade mark under the number 12 575 155 by Pest Control Office, a company that owns the rights of the artist Banksy, again with the aim of preserving his anonymity. In 2019, the British company Full Color Black Limited, which sought to reproduce his work on greeting cards, brought an action for invalidity against this trade mark before the EUIPO under Article 59(1)(b) of the EUTMR, arguing that its applicant was acting in bad faith when he filed the trade mark without any intention to use it as a trade mark.
It was therefore up to Pest Control Office Limited to prove that the trade mark had not been registered for the sole purpose of preventing use by third parties and to circumvent copyright issues.
… finally exploited …, but in a belated and questionable way..
Pest Control Office Limited therefore provided various proofs of use of this trade mark, from which it appears that no commercial exploitation was undertaken in the European Union before 2019. It was only in response to this invalidity action that an online shop as well as a not-open-to-the-public pop-up shop in London were launched. The EUIPO thus considered that there had been no real intention to commercialize goods or services,  Banksy  having stated that goods had solely been created to demonstrate that there was a use of the trade mark in accordance with the requirements of EU laws. Also according to the EUIPO, Banksy had also explicitly admitted that this use " was not genuine trade mark use in order to create or maintain a share of the market by commercialising goods ", but a use undertaken solely to circumvent the law.
EUIPO's response
According to the EUIPO, the proprietor of the trade mark never had any intention to use the contested EUTM according to its commercial function to designate goods or services. The EUIPO thus decided that the trade mark was filed in bad faith.
In order to make the finding of bad faith, the EUIPO considers that :
– as Banksy's anonymity did not allow him to claim copyright protection, the trade mark application had been filed with the sole purpose of acquiring an exclusive right on the sign;
– Banksy had never intended to use this mark in accordance with its function, and the sole uses that were reported were only made once the cancellation procedure had been initiated and with the aim of circumventing the law.
Such a decision is not without consequence, since Full Colour Black Limited has filed other trade marks for Banksy's emblematic works. It calls into question his protection strategy and may force him to come out of anonymity. At the very least, it will oblige him to adopt a coherent position between renouncing the use of intellectual property rights and the desire to nevertheless control the exploitation of his work.
(1) Decision n°33843C of 14 September 2020
(2)  from his book Banksy, Wall and Piece.