Our international network of local correspondents
From its founding, Beau de Loménie has developed an extensive network of local correspondents across Europe, the United States, and Asia.  Through this network, the firm has access to a wide base of IP specialists, whether in the fields of patents, trademarks, designs, copyright, or domain names.
Consisting of some of the top IP specialists, this network allows the firm to select the IP professionals most suited for the particular needs of each client as well as to have at its disposal, across the world, reliable points of contact to achieve co-ordinated operations in a fast and efficient manner.
On one or more occasions each year, our professionals personally meet with our local correspondents to discuss current cases, fee arrangements, and performed services. This approach ensures that our clients receive an optimal quality of service, including a sound and controlled management of work assignments at predictable and negotiated costs.
Our specialised teams
With offices in France (Paris, Lille, Lyon, Marseille, Nantes, Rennes, Strasbourg), Germany (Munich), and the United Kingdom (Birmingham), Beau de Loménie puts at its clients' disposal a multilingual, multidisciplinary, and multicultural team ready to protect, defend, and optimise its clients' IP rights (patents, trademarks, designs, copyright and domain names) on a global basis.
Among its team, Beau de Loménie counts a number of German patentanwälte, U.S. patent attorneys/agents as well as U.K. Chartered patent attorneys.  In addition, the firm has in place dedicated client liaison teams for Japan and China.
The firm's working languages include French, English, German, Japanese, Chinese and Spanish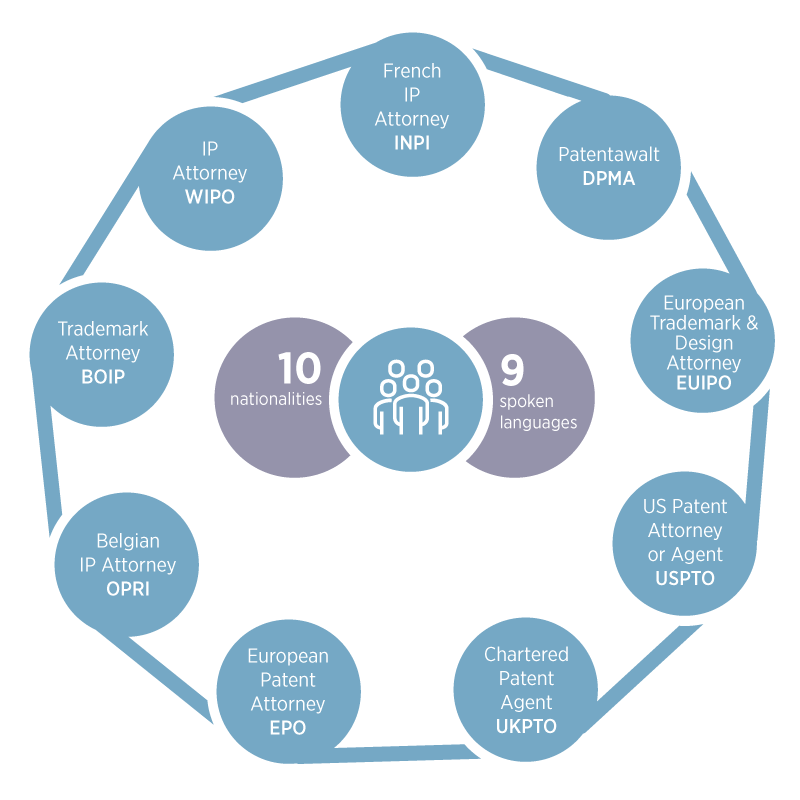 Our Japanese team
Beau de Loménie has a coordinator of Japanese relations who assists the firm's Japanese clients in the protection, optimisation and defence of their IP rights in Europe, keeps them informed of IP developments in Europe, monitors the progress of their cases and facilitates communication with the patent and trademark attorneys in charge of their cases.
Our Chinese team
Beau de Loménie's coordinator of Chinese relations assists Chinese clients in the protection, optimisation and defence of their IP rights in Europe, keeps them informed of IP developments in Europe, monitors the progress of their cases and facilitates communication with the patent and trademark attorneys in charge of their cases.
Some examples of our contributions

IP rights auditing as part of an acquisition
An audit of IP rights (including trademarks, domain names, patents, and designs) was needed in the context of our client's planned acquisition of a US company with multiple establishments in Europe. Since the technology being transferred was of central strategic importance to the acquisition, a consistent policy to protect this technology was critical.
We examined a portfolio of approximately 140 IP titles, held either directly by the US company or through the European establishments, and identified the problems and anomalies associated with them (such as validity of titles, ownership, and possible registered encumbrances on the rights). We also verified the consistency of the overall policy of filing for and managing rights.
The client is now positioned as a major player in the field of the acquired technology.
Rapid establishment of international protection for an invention
A major industrial player had an extremely urgent need to establish an international protection strategy for inventions utilising biological mechanisms, which are very difficult to protect by means of patents.
We quickly wrote multiple applications for patents, and filed them simultaneously in a large number of countries in coordination with our foreign correspondents. We participated in interviews with these applications' examiners in Europe, the United States, and Japan to accelerate the grant of optimised patents.
The client now has a portfolio of patents securing its industrial property in a highly competitive field.
Introduction of a remuneration policy for employee inventors
A company contacted us to set up a policy on the declaration of inventions and remuneration of employee inventors which would encourage internal research and development work.
We designed a system for reporting inventions that took into account the company's internal organisation, and proposed a remuneration policy that encouraged reporting inventions and which rewarded the inventors gradually, according to the economic benefit of the invention, and which was easy to set up. To do this, we assisted the technical and human resources departments, as the implementation of the policy affected the existing employment contracts.
The client enacted a company-wide agreement on the basis of our system and policy.
Synchronised anti-infringement actions in Europe
A company was confronted with a multi-faceted dispute affecting France and many other European countries, which involved French and European patents, trademarks, and design rights, as well as problems with domain names, unfair competition and misleading advertising.
Working with the company, we defined an international litigation strategy and formed an ad hoc partnership with UK, French, German, Italian, and Spanish patent and trademark attorneys with the aim of coordinating and streamlining all of the legal actions initiated by the company in Europe. We identified the networks that were manufacturing and distributing the counterfeit goods and took synchronised action against the networks' main producers.
The flexibility and effectiveness of this approach resulted in multiple successful court actions, including court awards of significant sums.
Protection strategy for the creation of a luxury trademark
A fashion designer that had just launched its own luxury brand asked us to implement a policy that would protect and extend its trademarks, copyrights and designs, and to ensure the organisation and asset management of its rights between itself and its commercialization structure.
We worked alongside the client in developing a protection strategy, defining how it should hold its trademark rights and the rights to its creations, establishing the priority and secondary regions for protection and the domains requiring protection. This strategy was implemented not just through filing procedures but also by establishing contracts governing transfers of rights and licences. We also determined the pricing for the assigned or licensed rights.
Our contribution allowed the trademark to be deployed across the world. We also established a structure for the use of the intellectual property rights attached to this designer's products.
Cooperation with customs authorities to detect and seize imported counterfeit products
Beau de Loménie represents various companies before the French customs authorities, in particular Japanese corporations. In order to detect and destroy imported counterfeit products, it has proved necessary to introduce day-to-day co-operation with French customs officials.
We have been actively involved for many years now in the day-to-day management of customs disputes and we participate in new schemes introduced by customs authorities. The management of these cases demands considerable responsiveness as regards both customs authorities and investigating judicial authorities, which regularly request customs authorities to arrange hearings with us. We also co-operate with customs authorities in identifying and combating internet-based counterfeiting operations.
To date, we have successfully sought the destruction of hundreds of thousands of counterfeit items.
Creation of a contracts library
A French subsidiary of an international company wished to set up a library of contracts covering confidentiality, cooperation, secrecy and development, including questions of intellectual property.
We applied our contracts know-how to create a library of contracts that would fit the various situations encountered by this client in its relations with development and industrial partners, particularly subcontractors. To do this, we identified the nature of the situation encountered based on the level of partnership and the know-how concerned, and we enabled the client to match the right type of contract to each of its partnerships. For contracts with industrial partners such as subcontractors, we not only sought to ensure confidentiality of our client's know-how, but also to maintain the client's competitive advantage and to protect our client's customer base. For development contracts, we also sought to safeguard the ownership of any IP rights arising from the development.
This library is now used by the company's administrative department, which, thanks to our contribution, has been able to ensure that its research and development engineers and sales staff establish systematic contractual relationships with their partners.
Customised IP training courses
Our client, a foreign company, realised that its teams in France had insufficient knowledge of intellectual property. This field was often seen as an obscure, off-putting area by operational staff (in particular by R&D engineers and marketing personnel) of the teams in France, unlike their foreign counterparts. As there was no suitable in-house training available, the company requested our services.
We introduced customised internal training programmes for the company, which were adapted to its different teams and their activities. In particular, we organised training seminars on IP for its legal, research & development and commercial departments.
We helped the company's teams gain a better knowledge of the field of intellectual property, develop appropriate legal responses, improve their monitoring of the competition, and improve integration of the protection of rights into their internal procedures.